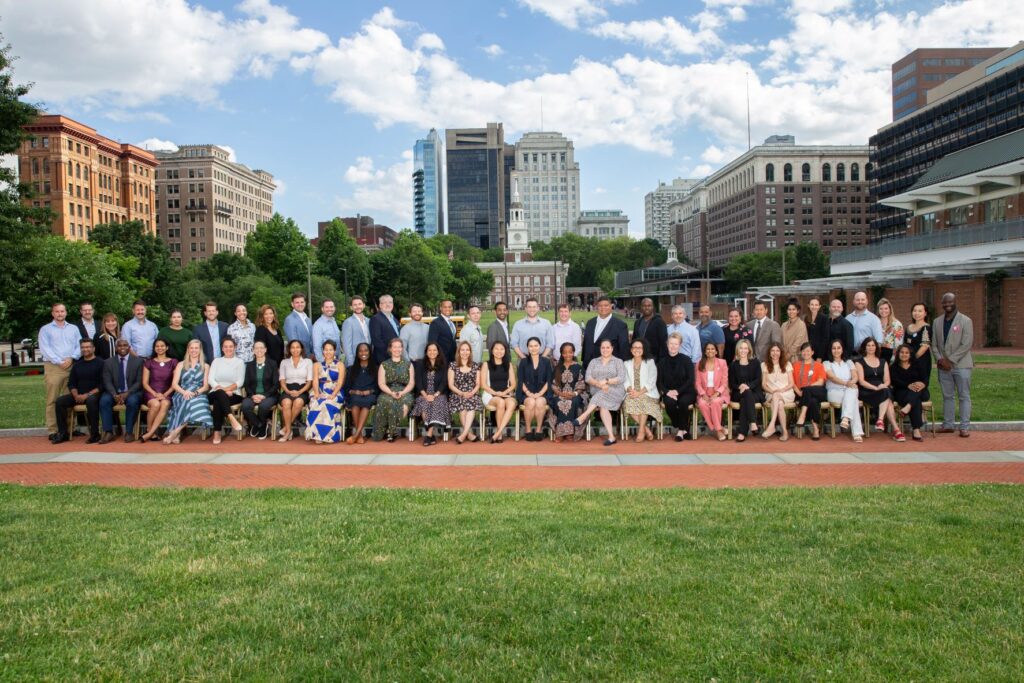 The 2022 Presidential Leadership Scholars completed their sixth and final module in Philadelphia, Pennsylvania, earlier this month. The capstone module focused on the power of reflection and tying together lessons learned throughout the transformative program year.
Scholars met at the Independence Visitor Center located at Independence National Historical Park where they heard from former secretaries who offered words of inspiration as they continue their work as PLS alumni.
Alexis Herman, former U.S. Secretary of Labor in the Clinton Administration, told Scholars: "You must take a risk for what you believe in. Nothing gets done that's worthwhile unless you are willing to step into that gap and take chances in life to make that difference."
Secretary Herman reminded Scholars to always remember their core values as they continue on their leadership journey and continue to face critical challenges around the world: "You have to have a moral center, you have to lead with integrity, you have to be very clear about your purpose and your intent, and you have to know that what you are doing is the right thing to do."
Scholars also heard from Margaret Spellings, former U.S. Secretary of Education. During the conversation, Secretary Spellings challenged Scholars to think of how they will continue to impact others as they look to the future: "You have to force yourself out of your comfort zone because it's easy to get somewhere and stay somewhere… Take some risks and challenge yourself to get out of your comfort zone."
The PLS program brings together professionals from across the country in all sectors of the workforce to lead lasting, positive change. With this in mind Secretary Spellings touched on the power of people: "We're never going to have better government than the people in it… that's why I'm so thrilled to have been a part of [the Presidential Leadership Scholars]. And that's why we have to make public service respectable, acceptable, and honorable again."
PLS faculty members also joined the Scholars in Philadelphia to lead several impactful classroom sessions:
Dr. Mike Hemphill, Director of Academic Programming, Clinton Foundation
Dr. Michael O'Leary, Teaching Professor of Leadership, Management, and Innovation at Georgetown University
Dr. Ella Washington, Professor of the Practice, McDonough School of Business, Georgetown University
As their final activity, Scholars toured the National Constitution Center and learned about the vision of human freedom throughout history through its interactive exhibits.
The Class of 2022 now joins the PLS alumni network, which includes over 400 Scholars.